My new found obsession is glitter. Not just in the fashion concept but in every concept. The way it catches your eye, the way it stands out, the way it just brightens everything up. It's like a brilliant, friendly smile, won't you agree? Except this is a mobile version, this is a smile you can plaster anywhere you like. A sprinkling of happiness, a dash of brilliance and a pinch of hope.
I don't even know what glitter is. What makes it so sparkly? Is it just pieces shiny card sliced and sliced into tiny shreds? When I was growing us, I liked to believe that glitter was fairy dust. Little bits of scattered memoirs from when the fairies visited. Well glitter is actually far from fairy dust, a quick Google search told me that glitter is pieces of copolymer plastics, aluminum foil, titanium dioxide, iron oxides, bismuth oxychloride or other materials painted in metallic, neon and iridescent colors to reflect light in a sparkling spectrum. I'm sure you'll agree with me, that thinking of glitter as "fairy dust" sounds so much more whimsical.
One woman who knows her way with glitter is the wonderful Nanna Øland Fabricius, known more commonly by her stage name: Oh Land. For me, Oh Land is my glitter queen, I wholly understand her obsession with glitter and her style. When watching Nanna's Stylized video, (watch it here) you will notice her admit "One thing I do sometimes is I pour a lot of glitter out in a bowl, then I lipgloss it all over my face." She then goes on to add that spraying hairspray on your face afterwards really "seals it to your face". Oh Land, congratulations, you've been crowned my Glitter Queen! ♔
Glitter is so versatile. I think you will all find that you agree with me. Wherever it is, it will look beautiful, basking in all its sparkly-ness. Take the pictures from below as an example. Whether just tossed nonchalantly over a table, or sprinkled into a pool of water. Glitter never fails to brighten any place up, and of course, do what it was born to do: sparkle.
As well as Oh Land, another glitter goddess is Courtney Love. Ever the '90s child I am, I think Courtney really blew us all away with her hair adorned with the favourite glitter-development of the '90s: the hair-jewel malarkies. She looks like a sparkling goddess, and the way she uses the glitter is very clever; her face looks radiant and illuminated, all thanks to that added sparkle.
Fashion and glitter. Well that is something I could spend a lifetime discussing. From Miu Miu sparkly sneakers to body glitter from the '90s, there's just far too much for me to cover. When it comes to glitter, be creative, don't let anything or anyone filter your creativity. Fashion has no limits, (other than nudity, everything other than nudity is great!) so go wild and express yourself. Just like how our glitter queen does. ♔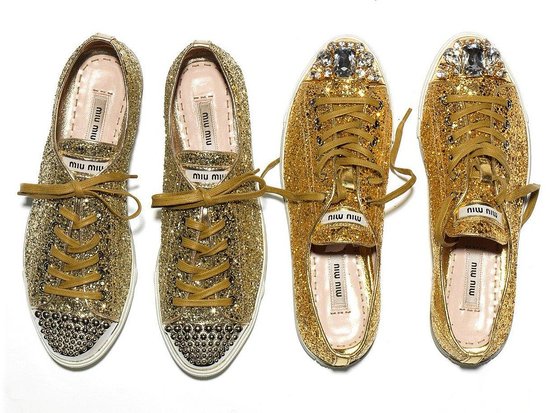 Without further ado, I'd like to conclude this heartfelt post. In the words of Mae West, "Personality is the glitter that sends your little gleam across the footlights and the orchestra pit into that big black space where the audience is."
Love from,
Miss Iffaxoxo